Cycling Kits For A Better Knee
July 10, 2013
URAH Singapore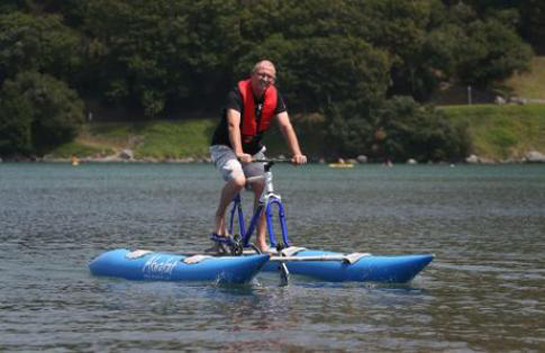 Solve Your Cycling-Related Knee Problems With This Kit Guide
Apart from dodging bendy buses and white-van men in early morning traffic, one of the biggest complaints among cyclists is knee pain, accounting for 25% of all cycling related injuries.

For many this is because of a toughening and shortening of the iliotibial (IT) band due to overtraining and not stretching, but rather than getting off the bike there are pedals out there which have integrated 'float'. Float is the amount of free movement the pedal allows while remaining securely attached to the shoe. The foot will naturally move while clipped in so to restrict this can lead to a strain on other joints, especially the knee. We've tested the best pedal systems with float currently available,
Time RXE - Time has been producing floating pedals longer than anyone else and are currently the market leader, as well as being recommended by many sports injury professionals. Time's 10º of total float also have a recentering element to them which brings your foot back to the centre line. While this isn't free float, this amount of play can be enough to relieve the pressure.
Speedplay Zeros - The typical cleat and pedal set-up have switched here, so all you're left with is a lollypop protruding from each crank and a bulky cleat on the bottom of your shoe. There's a metal plate to protect the mechanism but this does make for a very slippery sole. With all 15 degrees of float fully open the pedals feel unstable to start with, like skitting around on ice, which doesn't give you a great sense of stability when putting the power down. However, you can adjust the float down to give exactly the amount of you need to feel stable and comfortable.
Shimano Floating cleat - The floating pedal idea has been turned on its head here, as it's not the pedal mechanism that moves but the cleat which floats instead. The benefit of this is you don't need to shell out on a new set of pedals to take advantage of this system, simply replace the cheaper consumable cleat.
Bebops - Bebops are quite new to the UK and mirror the cleat and pedal style of the Speedplays. Specifically designed for an MTB or leisure shoe they do not connect with the 3-hole system on most road shoes. They also require that you cut away some of the shoe grip from the underside to fit them. Giving a massive 20º of float these pedals feel similar to the Speedplays for half the price, they also require virtually no maintanance.
Click here to Check How to Use Urah Products
Click here to Check the Quality of your Glucosamine Product before use
Beware of False Product Claims : Click Here >>