Below are a few testimonials out of many received from users of Urah products.
Osteoporosis Testimony of Maejima from Tezuka Surgery Clinic (Japan)
I have been testing the bone mineral density of Mr Maejima in Tezuka Surgery Clinic (Japan) in the past 7 months. His bone mineral density has increased from 2.71mmAI to 3.00mmAI which is 10.7% increment. Astronauts of NASA and JAXA had been using "Bisphosphonate" before and after their adventure into the space to prevent their bone mineral density from decreasing. However, after using "Bisphosphonate" for a year, their bone mineral density usually only increase by 1% to 5%. On top of that, "Bisphosphonate has its own critical side effects like "Atypical femur fracture paradoxical" and "Bisphosphonate-related osteoporosis at the jaw". The 10.7% increase from Urah cream is incredible, astonishing and remarkable that I could not sleep well last night just by thinking of the potential of your product. It is my hope that NASA and people suffering from osteoporosis around the world will benefit from Urah's cream for their treatment against osteoporosis soon. - M. Akatsuka
Maurice CSO to President OBJ (Nigeria)
I can play soccer and squash at 85 yrs - Thanks to Urah Micellar products. View full video testimony of President Obasanjo here>> https://youtu.be/mYYvZOdos3A (Copy and paste link to view) Urah Micellar Technology is amazing. It is a gift for gracious Living & Aging - President Olusengun Obasanjo
Chong Shiuk Ching (Ms) (Singapore)
I started getting thumb tendonitis a few years ago. This pain occurs during grasping, twisting or thumb motions. It got to a point where I could not twist open bottle or jar caps when cooking. The pain was so bad on certain days and I had to cut down on cooking and housekeeping chores. This went on for a couple of years and then my brother Winston introduced URAH cream to me. I was very very very pleasantly surprised to find that it worked immediately on application. No kidding, it almost sounds too good to be true but it is true !! On a scale of 1 (least pain) to 10 (worst pain) , I started at a 10. After one and a half months of using Urah Micellar Cream, today my pain score is 2. These days, there are times, I even forget that there is an injury. I apply it in the mornings, and again during the day. It still works immediately and takes the discomfort and pain away. I am grateful for the relief and comfort URAH has given me. -Chong Shiuk Ching
Tan Pei Yu (Singapore)
Not oily and easy to use. Helps to relieve pain My Pain score before using Urah: 6/10 Pain score after 2 weeks using Urah: 2/10 Effectiveness Period: 2 weeks Thank you URAH Team!
Ling (Singapore)
My father in law (in Texas) and hubby (in Spore) have been using Urah joint health plus Omega-3 since last year. Their joint and body pains have greatly reduced. My father in law is buying more Urah products for his old friends in USA now.
Tai Yan (Singapore)
Urah Micellar Transdermal Glucosamine Cream is as good as it claims to be. For me, it resolved my on and off knee pain problem that I was having over the last 1 year. I used to experience pain in both of my knees when walking long distance and especially climbing my home stairs a few times daily. Thanks to Urah, my pain is now gone! In fact, after applying this Urah glucosamine cream 2 times daily for 3 days, the pain miraculously disappeared leaving only some aches which eventually went away in another week. I have continued applying the cream thereafter and I feel my knees strengthening. I now apply it daily for maintenance purposes. This 'miracle' has shown that their targeted delivery of the active molecules in the glucosamine cream through the skin barriers to the pain zone had really worked. It is very much better than taking oral glucosamine supplement tablets which does not help me much. This proprietary micellar transdermal glucosamine cream really works wonders. As such, it is indeed an excellent innovation. I strongly recommend using it.
Deveka (India)
I have to compliment both Urah as a product, and the team behind Urah as well. My grandmother has been relying on Urah for the past 10+ years, applying it once or twice a day, ever since first coming across the product in a fair at Tanjong Pagar, Singapore. This is the only product she has found to provide her any relief since injuring her knee severely in a 3-storey fall from a cave in India - about 35 years ago. Her knee and leg would get stiff, sensitive to cold, painful, and swollen. Her knee would get in the way of her previously active lifestyle of swimming regularly, going for walks and spending time on her favourite pastime - cooking, which involves sometimes hours of standing at a stretch, and strain on her injured knee. In her own words, "this cream is a miracle cream" and we are both so grateful for not only the product but also the team behind the scenes (including William and Reizalyn) who provide excellent and timely service whether its home delivery within Singapore, or overseas delivery to India. Thank you Urah! :) I genuinely can't explain how good it feels to see my grandmother feel active at 78, doing all the things she loves without feeling like her body is getting in the way. :)
Adrian Ho (Malaysia)
I am a retired engineer. I had experienced sharp pains on my left knee after I had a boat accident. My friend, Mike, gave me a tube of Urah Joint Health cream to try recently. I applied the cream as per instruction. I had only applied for two days and the pain was gone. I realised that the cream also worked for my shoulder and neck regions. I have given the cream to my sisters in Australia and they have found the effectiveness of this wonder cream. My dilemma now... How can I get the cream in Malaysia?. Thank you Urah Singapore
Wendy Yew (Singapore)
I am Wendy Yew, 64 years old. I am a customer's relation officer, a desk bound job. I used to experience sever pain in my knee-joints whenever I get up from my desk to walk. Before using Urah, even a simple movement could cause me great pain. I bought Urah Cream at a Singapore pharmacy in desperation for solution to my pain condition. I followed Urah instruction to apply it twice a day for a month. I was surprised to realize that my knee pain disappeared. I feel so relieved now. I can walk well and can even do my regular exercise comfortably. I already recommended Urah cream to my colleagues and friends. They are very happy with the result too. Thank you Urah for taking away our pain and helping us to live a pain free life!
Paul-Andy Briki (Nigeria)
I live in Abuja, Nigeria. Sometime in 2014 I starting feeling terrible pain around my waist after exercise because of the fractures in my hip bone and femur following an accident in 2007. As a result of the persistent pain, my sister gave me Urah cream which relieved my pain substantially but I did not note down the name of the cream at that time. When I heard a Radio advert about Urah cream and its health benefits recently, I went home to check and realised that I had actually been using Urah cream all this while. Urah is a wonderful product and I have since become a retailer of the cream. Thank you Urah Singapore.
Terence Lee (Hong Kong)
Hello Urah! I am a successful case of using your product. After using your sporting cream for three weeks, my year old knee problem has almost gone. I very much like to introduce your products to my fellow golfer and lawns bowlers friends in Hong Kong. So many of them are suffering the similar problems.......
Joshua Calvert (New Zealand)
I am an 83 year old male and whilst holidaying in Singapore recently I attended the Xin Hua TCM Therapy clinic in Tanjong Pagar Plaza twice and received acupuncture and massage treatment for arthritis in my left knee and hands (I had a total knee replacement of my right knee in 2013) On completion of the massage I was given the remaining Joint Health cream and I have been using it to good effect since, I have now ordered two more tubes in the hope that my arthritis will continue to improve. Many Thanks
Maureen Anderson (Australia)
While recently holidaying in Singapore I had cause to visit a chemist as I had extremely bad back pain. So much so, that I could hardly walk. I had previously had an ultrasound back in Australia before I holidayed and there was nothing out of place. However, the chemist recommended the Urah Sporting Cream + MSM. It was fantastic !!!!!!
Share your own experience.
If you have tried Urah and it has benefitted you, we would love to hear from you!

Why they love URAH Micellar Glucosamine Cream
Most Popular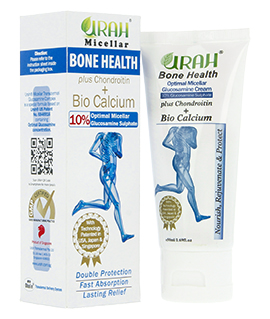 10% glucosamine with chrondroitin
Apply twice a day for optimal result
Chondroitin works in synergy with glucosamine to strengthen joint structure
Bio-calcium works in synergy with glucosamine and vitamins to provide optimal protection for bones and cartilage
Available in hospital and clinic pharmacies and website only
Urah Products are available in the following outlets in Singapore:
Check Product Availablity at your location:
Disclaimer: All contents on this website are provided for general information only, and should not be treated as a substitute for the medical advice of your Physician or any other health care professional. Urah is not responsible or liable for any diagnosis made by any user based on the content of this website. Always consult your own Physician if you're in any way concerned about your health.