Immobility is the root cause of many chronic diseases, and Joint & Body Pain is a major hindrance to Mobility. Get Urah MGC, start exercising today & get back to Active Lifestyle.
Arthritis and Osteoporosis are responsible for 90% of immobility and physical inactivity which, in most cases, trigger obesity, high blood pressure, diabetes, cardiovascular diseases, depression and a host of other diseases.
Regular walking and exercise improves our physical, mental, social and spiritual wellbeing, thus reducing the risk of getting these chronic diseases. But joint & body pain is a major hindrance to regular walking & exercise.
URAH Group of scientists based in Singapore now provides a clinically tested solution for Joint & Body pains using URAH® Micellar Transdermal Technology. Urah Micellar Technology is based on its patented technology in the US, Japan & Singapore.
Don't let joint pain stop you. #GetBackOnYourFeet with URAH!
Secret Behind Glucosamine Therapy– Why Some Products Do Not Work
Many clinical researches have shown that Swallowing Glucosamine may not work due to low absorption (low bioavailability) in the gastric. Also, the active ingredients of glucosamine are acidic and may cause gastric irritations and escalate gastric ulceration in addition to other side effects.
Glucosamine works only when it is delivered to the blood circulation. It is however difficult to deliver Glucosamine orally or through the skin or by injection. It requires a special Micellar Delivery Technology to deliver Glucosamine to the blood circulation.
Urah Micellar Transdermal Technology has solved the above limitation by providing a
Clinically Tested
effective topical Glucosamine Cream backed by Technology Patents in the
US (Patent No. 6846916)
, Japan (Patent No. 4580234) & Singapore (Patent No. SG102614). Urah Micellar Glucosamine Cream is a scientific formula for non-invasive treatment of Glucosamine deficiency syndromes such as
osteoarthritis, joint and body pains, muscular stress & fatigue, sprain and inflammation
. Urah Cream is all
NATURAL
, odourless, non-greasy & smooth on the skin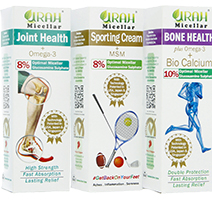 Buy Now
Recently, the American College of Rheumatology/Arthritis strongly recommended against taking oral glucosamine pills due to lack of efficacy and side effect of th...
RESEARCH PAPER 1: Reference: British Medical Journal (BMJ) 2010;341:c4675 doi:10.1136/bmj.c4675 Title: Effects of glucosamine, chondroitin, or placebo in patien...
As many Countries now face the issues of an ageing population, degenerative diseases such as Osteoporosis and Osteoarthritis become increasingly prominent health iss...
Urah Treament Advice / Recommended Product & Recovery Regime ...