Worst food for sleep
July 09, 2013
URAH Singapore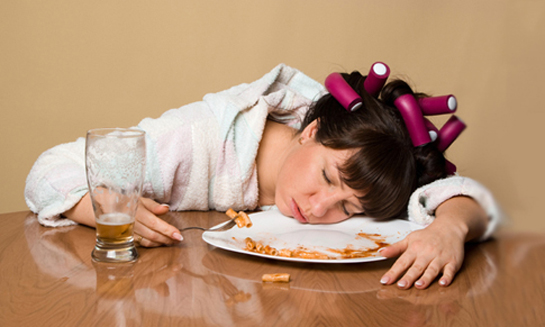 Alcohol
A drink or two before bed can make you drowsy, leading many to believe it's actually beneficial for sleep. But while it may make you nod off quicker, research shows that drinking alcohol makes you more likely to wake during the night, leaving you feeling less rested in the morning.
The latest study found that alcohol increases slow-wave "deep" sleep during the first half of the night, but then increases sleep disruptions in the second half of the night.

Since alcohol is a potent muscle relaxant, it can also increase your risk of snoring. Snorers -- and their bed partners -- often experience restless sleep leading to sleepiness and difficulty concentrating during the day.
Coffee
Coffee, of course, is one of the most common sources of caffeine. This stimulant has a half-life of five hours, which means 25% of it will still be in your system even 10 hours later, and 12.5% 20 hours later (see the problem?). Plus, in some people caffeine is not metabolized efficiently, leaving you feeling its effects even longer after consumption. So, an afternoon cup of coffee or tea will keep some people from falling asleep at night. Be aware that some medications contain caffeine as well (for example, diet pills).
Dark Chocolate
Dark chocolate, though the healthiest form of chocolate from an antioxidant perspective, can contain relatively high levels of caffeine that can keep you up at night if you're sensitive. It also contains theobromine, a compound that has caffeine-like effects.
Spicy Food
Spicy foods before bedtime can give you indigestion that makes it nearly impossible to get a good night's sleep. But even if you can eat spicy foods without discomfort, they are still linked with more time spent awake during the night and taking longer to fall asleep. It's speculated that this may be due to capsaicin, an active ingredient in chili peppers, affecting sleep via changes in body temperature.
Unhealthy Fatty Foods
When you don't get enough sleep, you're more likely to crave high-fat, high-sugar foods the next day. But eating a high-fat diet also has impacts on your sleep, including leading to more fragmented sleep. In fact, an animal study revealed that eating fatty foods may lead to disrupted sleep and excessive daytime sleepiness.

The link may be due to the brain chemical hypocretin, a neurotransmitter that helps keep you awake and also plays a role in managing appetite. Keep in mind that while you should limit your intake of unhealthy fats like those from fried foods, healthy fats (including saturated fats) play an important role in your diet and shouldn't be eliminated.
Click here to Check How to Use Urah Products
Click here to Check the Quality of your Glucosamine Product before use
Beware of False Product Claims : Click Here >>